Dutch Warmblood horses are well-known for their good character, soundness and athletic abilities, qualities most in demand for riders. Years of careful selection and breeding have resulted in the prominence of KWPN horses in both international competition and recreational riding activities.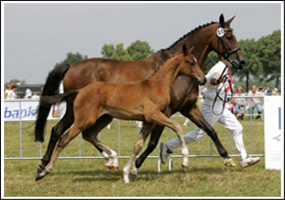 Free Rein strives to breed the best to the best, using superior quality KWPN mares and the finest approved stallions in the Netherlands and the United States.
The vision of Free Rein is to produce horses which meet the Breeding Goal, -- the standard to which every breeder aspires -- of the Dutch Warmblood Studbook, which is to breed a horse able to compete at the highest level in dressage or show jumping, with a good conformation, good health and enough beauty.
We invite you to meet our horses, and discover for yourself the magnificence of Dutch Warmbloods.